Purple Opuntia Cactus
00089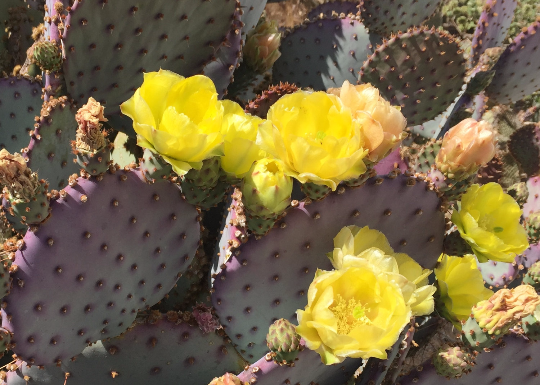 Opuntia violacea, var. "Santa Rita" is often called Purple Prickly Pear.
This is a fantastic species to really brighten up your property! The pads root well, and love sandy, loamy, or gravelly soils.
Purple Opuntia cactus tolerates reflected heat, as well as below freezing temperatures. It blooms with a beautiful, bright yellow flower, and appreciates full sun. (Pictured are the actual pads) These pads are a gorgeous deep purple!
Purple Santa Rita requires almost no water once established, but a few deep soaks in the hottest months will encourage faster growth. These are beautiful, large, disease free pads, at least two years of age when harvested. This species grows into a "shrub often 3 feet high, and at least as wide. Some of our parent plants are more than 4 feet high.
A California Department of Agriculture Intrastate seal is included on your shipping label, which insures that you're purchasing your cacti from a reliable source.
***PLEASE NOTE!!! Cactus pads are not cut from the parent plant until you place your order. Pads need several days in the sun to "callus over" prior to shipping. If the cut end is not completely dry, your pad could mold during transit. ***
Two sizes to choose from. This option is for smaller pads, less than 5" straight across, and are two years old. Please see our other option for Purple Opuntia for large, landscape quality pads.