Desert Needle Grass
00064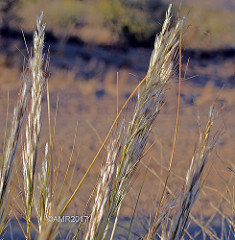 Achnatherum speciosum, Desert Needle Grass is a beautiful perennial bunch grass with attains a height of up to 2 feet. When it begins to go to seed, it has a fluffy appearance, and is found on sloped and in rocky areas below 6500 feet. Once established it provides a valuable wildlife food source, and is a gorgeous addition to any garden.
Excellent for reclamation of disturbed sites.
Needs excellent drainage. Can be slow to germinate.