Cold Hardy Spineless Cactus for Tortoises: Grow your own!
00146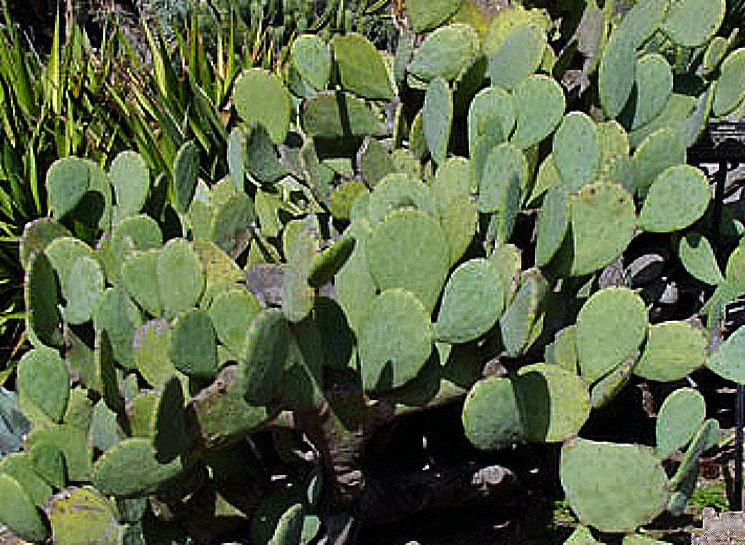 Opuntia cacanapa is a species of "prickly pear" cactus found in the Southwestern USA. This is a spineless variety.
These are pads that are ready to plant, so that you may start growing your own supply for your tortoises. Why purchase "ready to eat" cactus from a store, with no knowledge of possible chemical use, when you can purchase your own mature pads to grow, and know they were grown without the use of pesticides or herbicides.
Unlike "nopales" or "nopalito" cactus (Opuntia ficus indica, commonly called "Indian fig cactus") this species fares much better in temperature extremes of bright, hot sun, as well as cold. Once established, it often survives to USDA Zone 6, whereas Indian fig cactus survives only to USDA Zone 8b, and sometimes doesn't survive a hard frost, unless well protected.
Due to its thicker skin, mature pads are more resistant to drying, hot and cold winds, and it does well in full sun with soil that drains well. It may be planted in the ground, or in a container. Once rooted, occasional water will be needed. Good drainage is a must. It appreciates full sun, but may will tolerate part shade.
Young pads are tender, are spineless or nearly spineless, and are a ready to harvest, tasty and healthy tortoise treat, as are the bright red, fleshy fruits that form after a gorgeous spring display of bright yellow flowers.
These are un-rooted pads, will ship without soil, and are at least 2 years of age when harvested. The average size of un-rooted pads is 8 to 11 inches, and weigh approximately 1/2 poud each. They root easily, and start growing quickly, once established and weather is warm. They may be rooted indoors in fall or winter, and transplanted outdoors the following spring.
Quantity is limited