Opuntia erinacea RARE! Grizzly Bear Cactus, Mojave Cactus
00212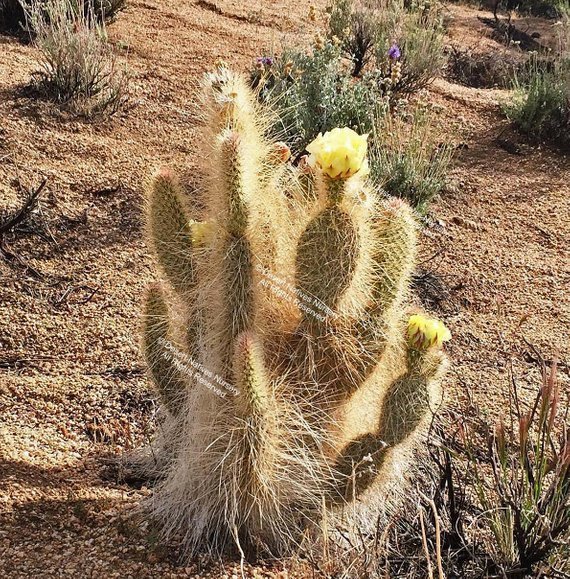 This is DNA tested and verified (tetraploid) Opuntia erinacea, sometimes called Grizzly Bear Cactus, Grizzly Bear Opuntia, Old Man Opuntia, and Mojave Cactus. This is a stunning native species! (It is NOT Opuntia erinacea "polycantha")
We were fortunate to "rescue' this species from a bulldozer on private property. In spring, it bears gorgeous lemon yellow flowers, which really stand out against the white to reddish long spines. The spines are the longest on the most mature pads.

This species reaches up to 2+ feet in height. It may be found in Creosote Bush Scrub, Pinyon-Juniper Woodland, Joshua Tree Woodland, Chaparral, Yellow Pine Forest habitats. It requires soil that drains well (loves alkaline, gritty soils.) This species is sometimes seen in the Mojave National Preserve area.

Hardy to USDA Zone 5b once established.

Available as a one gallon, well rooted plant This species will be shipped bare root, (with soil removed) and will be properly cushioned and boxed to avoid damage in transit. We will have only a limited number available this year.