Desert Willow
00096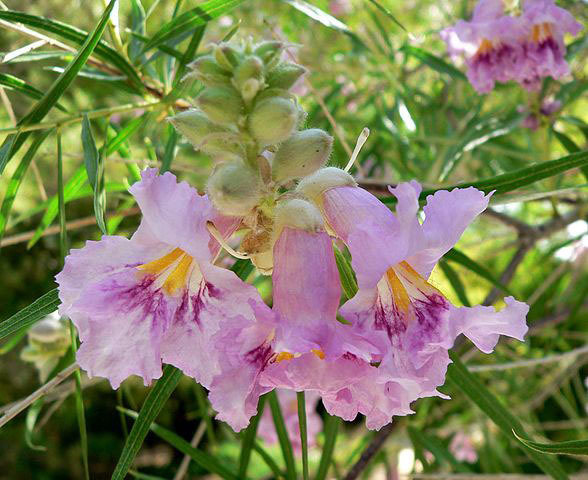 Chilopsis linearis is commonly called Desert Willow. It is a beautiful, drought tolerant shrub or tree found from the Southwestern US deserts to Mexico.
Desert willow is not a true willow, it is a member of the Bignonia family, and got it's common name because of its narrow, long, willow-like leaves. In mid to late spring, Chilopsis explodes with large flowers.
This is a hardy species that is found at elevations as high as 5900 feet, and tolerates dry, hot climates and desert winds. it can grow to a height of 25 feet or more, and is a popular choice for property owners who choose to landscape using native plants. It provides filtered shade, and is an important food source for hummingbirds, butterflies, moths, and native bees. Ripened seed pods provide a healthy, native food source for birds. Flower color is from a light to medium pink, with darker pink stripes.
This species can be trained to remain a tree, or pruning can be halted, allowing it to form into an irregular, large shrub. For the first spring/summer/fall season, deep watering should be provided to help establish a healthy, deep root system, and in late fall/winter, no supplemental irrigation is needed. Once well established, many desert willows need no supplemental water, but providing them with an occasional deep soak helps them to grow faster.
USDA Hardiness Zones 5 through 10 (Below zone 8, must be planted in spring to estabish)

i gallon, soon entering winter dormancy.
Tortoise Friendly Flowers
Safe Enclosure/Habitat Shrub