Desert Five Spot
00030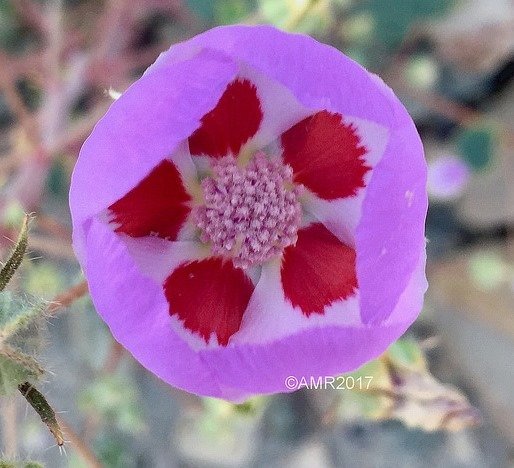 Eremalche rotundifolia, commonly known as Desert Five-Spot, is an annual member of the Malvacaea family, and is found in the Mojave and Colorado Deserts in gritty and sometimes rocky soils from seal level to 4000 feet. It is a branching, open plant with rounded, bristly leaves and may reach a height of 2 feet. This species bears gorgeous, light purple flowers, and each petal contains a llarge, bright red to purple spot at its base.
Petals close at night, reopening the next morning, and the leaves move during the day to receive the maximum amount of sunlight
It appreciates gritty, alkaline soils, and is most often found along dry washes and in rocky areas. We propagate Desert Five Spot it in decomposed granite, at an elevation of 3600 feet directly in the ground. It appears that this species does not like being in a container. It appreciates full sun, but may tolerate partial shade in the afternoons. Requires excellent drainage and prefers alkaline soils.
We spent several years getting this species into production, and we're very pleased to be able to offer this species in limited quantities.
Per packet (25 seeds)